General Health And Safety When Walking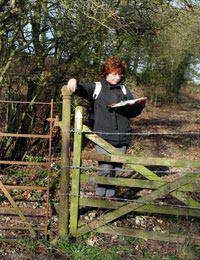 Whether you're hiking, rambling, taking the dog out for a run on the park or just going out for a pleasant leisurely 'stroll' - walking is probably the most simplest form of exercise we can all take to keep us in good shape and good health. Of course, unless you're going at a pace which increases your heart rate, it's not going to help you lose loads of weight nor will it necessarily result in you becoming extremely fit but it can help with both of these things depending on the intensity level at which you do it. The degree to which you'll need to prepare will depend very much on the kind of walk you are planning and the terrain and location you are going to be walking in so some of the following general advice on health and safety measures you should take may or may not be applicable to you.
Safety When Walking On Roads
Even if you're just going for a leisurely stroll around your local village or even in the city, follow the safety advice which is outlined in the Highway Code and always use the pavement if there is one. Cross at safe points where you have excellent views of the traffic coming in both directions and try to avoid crossing on bends or from behind or between a stationery vehicle. If you're in an area where there is no pavement, for safety always walk on the right side of the road, in other words, facing oncoming traffic but cross over to the other side when approaching sharp bends on the right.
Heath And Safety For Hiking Or Rambling
Before you tackle a hike or ramble, make sure that you have been checked out by your GP if you're unsure about your general health and physical fitness level and don't be too adventurous in the distance you're expecting to cover if you're a relative novice. If you're hiking 'off the beaten track' make sure for your own safety you take a map with you and know how to read it and take sufficient food and water with you which will last for the estimated duration of your walk.
Safety Tips For The Weather
Be prepared for adverse weather when you're hiking. The British weather, as we're all aware, can be very fickle, especially at higher levels e.g. hills and mountains, so keep an eye on the forecast and dress appropriately for the conditions, as well as carrying a first aid kit and whatever you might need for safety in adverse conditions. If you're in any doubt about the severity of the weather and you intend walking in remote hilly areas, it's always better to postpone your walk until another day, rather than run the risk of getting trapped up a hill or mountain.
Safety Preparations For Hiking
Before heading out, make sure that you've physically prepared and in good health for the walking you intend doing. Depending on the nature, intended duration and location of your hike, for safety you should leave details of your intended route and your estimated time of return with somebody who can alert the relevant rescue authorities should you not be back at your estimated time. Take a mobile phone with you. Most of us carry one these days and they can be a vital tool for summoning help if you get into difficulty. You may also need to carry a torch, a first aid kit and other safety items too, depending on the type of hiking you're intending to do.
The information on walking health and safety contained in this article is very general but, for more specific and detailed advice on health and safety whilst out walking and much more besides, please check out the other articles contained within this website.
You might also like...
Pay attention to weather forecasts - you don't want to be out hiking and have a blizzard start, for example. Make sure you're appropriately dressed for the weather, too, with layers when it's cold and a good waterproof jacket. Healthwise you shouldn't push yourself too hard just to try and prove something. Stay within your comfortable limits and enjoy it rather than trying to do too much. The idea is to enjoy yourself, after all.
Dave
- 14-Jun-12 @ 8:23 AM