How Much Should You Carry in Your Backpack?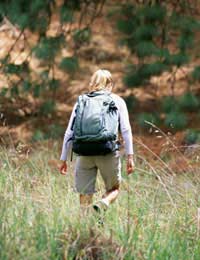 We've all seen people walking, bent over under the weight of items in their backpacks and look under a great deal of strain. That's never a good idea, not only because it can cause physical pain and lasting backache, but also because its ruins all the enjoyment of the hike.
Of course, there are things that do have to be carried if you're on a camping trip, items that simply can't be left behind. But for health, safety, and pleasure it's necessary to strike a balance between necessity and practicality.
Just because a pack is big doesn't mean you should cram it full. In fact, that's a bad idea, since there's always going to be a limit on what can be put inside without seams tearing and what the frame can support.
What Can Your Pack Hold?
Think about how long your trip is going to be. If you're just hiking for the day, then you'll only need a very small daypack, and a weight of no more than five pounds at the very most.
A camping trip of 3-4 days will obviously require more, since you'll be carrying more clothes and food, as well as a tent – estimate up to 25 pounds, although the colder the weather, obviously the more you'll need to pack, and it's possible to have large packs comfortably holding up to 50 pounds of gear. Don't try and carry more than 15 pounds in a backpack that doesn't have a frame; it – and you – need the extra support.
How to Wear Your Pack
When packing, make sure the heavier items are at the bottom of your pack so the centre of gravity stays low. This makes for more comfortable walking for you, helping you to keep straight.
Good backpacks (and it's worth spending extra to have a good one) have plenty of adjustable straps, including chest and waist that can make for the best possible fit, so the pack doesn't move as you walk and the weight remains even against you.
If you're breaking in a new pack, or planning on a trip with more gear than usual, it's a very good idea to walk around your garden or neighbourhood with it fully laden for a while to become used to it, and also to ensure the straps are properly adjusted.
How Much Should You Carry?
As a general rule you should try not to carry more than one-third of your body weight, and even that will take a toll over several hours of walking. To avoid a lot of back pain, never go over this limit, and if possible aim for less – although that's not always feasible. After walking round for a little while as a test, think again and strip away everything you absolutely don't need. Two days into a trip your body will be thanking you.
There's also a movement called ultralight backpacking, which advocates carrying less, somewhere between one-fifth and one-seventh of your body weight. That requires extremely light, but still durable, backpacks, which can be expensive (although many aficionados make their own). Ultralight isn't just for short trips, either – some of these backpackers go out for a week at a time, meaning they face real challenges in what to pack, but at the same time finding walking a lot easier and more enjoyable.
It's worth remembering, too, that the size of your backpack should be in proportion to your own size. If you have a short torso (measured from the base of your neck to your hips), then a long pack just isn't a good idea; search for a shorter one which will sit more easily on your back.
You might also like...
Much depends on your own back, too. Those of us who are a bit older and whose backs have some problems shouldn't carry heavy packs at all, and certainly not for long distances. Not only will you be aching by the end of the first day, you will end up feeling it for weeks afterwards. Lovely as hiking and camping is, your back knows when it's time to stop doing it.
olderman
- 26-Sep-12 @ 9:18 AM
I'd say that even carrying one-third of your body weight in a pack is too much. I know soldiers carry more on marches, but they're trained for it. Before the trip, cut down to the absolute basics and then walk for an hour carrying the pack. Then cut down even more before you leave. By the end of the cam,ping trip, especially with plenty of hiking, you'll be glad you did.
Kristie
- 31-May-12 @ 10:00 AM