Planning Hiking Holidays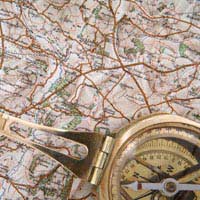 The prospect of a hiking holiday can be very exciting. It's a chance to explore an area fully, to cover new ground and see fresh scenery. Once you've decided on the holiday, however, comes the realisation that there's plenty of preparation involved.
It's very different from a package holiday where you simply pack a case and show up at the airport. With a hiking holiday, good planning is vital to make it work and be enjoyable.
Things To Consider
When it comes to preparing for a hiking holiday, there are two main things to consider – what to take and where you'll stay. There are other factors, but they'll only be minor.
It's going to take time to plan the holiday, so it's not something you should leave to the last minute; that's just asking for trouble. Do it right and the planning will make the time away a real memorable pleasure.
Where To Stay
The whole aim of a hiking holiday is that you spend each day walking, progressing on a route. At night, though, you want somewhere comfortable to stay, where you can sleep, relax, and be fed.
Depending on where you intend to go, those kids of places might be thin on the ground. Whether the choice is good or poor, you still need to find the places that might have rooms available. When it comes to this, the critical factor is calculating how many miles a day you plan on covering. This will vary according to terrain, the age and fitness of the hikers, and simply how hard you want to exert yourselves. You might aim for 15-20 miles each day, which under many circumstances is quite feasible. On the other hand, where there are things to see, you might prefer the ideal of a slower-paced 10 miles in a day.
Whatever it is, you want to be certain there's a welcome waiting for you. That means researching the route, and using your knowledge to decide what would be a fair distance each day, and then finding a bed and breakfast, or even a hotel or a hostel, to stay at each night. Read reviews of each place (there will be plenty online) and make your decision based on those and the facilities offered. Remember, it's always advisable to book well in advance, especially if you're going in summer, and to have a backup in case the place you want is full.
What To Take
Whatever you want to take on your hiking holiday you'll literally be carrying around with you. That means you need to be sure there's absolutely no excess, as it will be on your back the whole time. Have a good rucksack with a frame; you'll find it will leave you less tired and your posture for walking will be much better.
Calculate how few changes of clothes you can manage. Pick fabrics you can wash in a sink and leave to dry overnight. You will need a rain jacket, but it should be as lightweight as possible (whilst still offering good protection rain both rain and wind) and fold into a small space.
Leave enough space for a first aid kit and your toilet bag, along with snacks, which you can probably replenish daily, as you'll likely only be eating lunch on the trail. The lighter your pack, the happier you'll be as the miles increase.
You might also like...