Transport and Accommodation for Walkers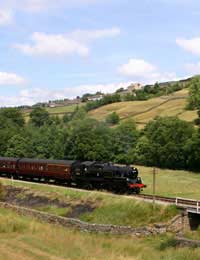 If you're planning a walk a little further afield and it's going to be spread out over more than just a day you're going to have to think about transport and accommodation to one degree or another. Even for those who have cars, many walkers are also aware of the environmental impact that their vehicles can have on areas of countryside and prefer to use public transport as a way of reducing their 'carbon footprint'. And, although some of the most remote areas in the UK are not easily accessible by public transport, the country is, for the most part, trying to do its bit by putting on services which will help to reduce congestion in extremely popular walking areas and to create a more pleasant environment for walkers and for those who like to spend time in the outdoors, in general.
Transport
Both National Rail (trains) and National Express (coaches) provide regular public services to the vast majority of Britain's most popular walking destinations, either directly to a particular popular starting point on a route or, at least, to a town or city that isn't too far away. Even some of the budget airlines have now made it relatively affordable to make internal flights between numerous cities in the UK which can make a great difference if, for example, you live in the South of England and are planning a walking trip in Scotland. However, you may find that you'll possibly need to cover the last 'leg' of your journey to a popular 'hotspot' via a local bus service or even a taxi. Once you've worked out a plan to get you as close as possible to a place where you want to walk, it's well worth checking out the relevant local authority's website as you may well be able to complete the last leg by using a local bus company, many of which lay on special shuttle buses to popular walking trails.
Accommodation
Although some walkers like to follow their trips by relaxing in 4 or 5 star hotel accommodation, the vast majority like to keep things relatively simple. That doesn't, however, necessarily mean having to rough it and there are a number of popular options that you may wish to consider:
Camping -For many people, getting close to nature is what walking is all about and a walking trip wouldn't be complete for some without a night spent 'under the stars'. Camp sites can vary from all-singing, all-dancing 'resort' type accommodation with hot showers, shops and entertainment laid on to your primitive patch of land where a toilet is simply a hole in the ground along with many variations falling somewhere in between.
Hostels – Made famous by the Youth Hostel Association (YHA), many people might think that you have to sleep in dormitories sharing your living quarters with strangers and, whilst there are numerous hostels which operate in this fashion (which many people enjoy, by the way), some offer smaller rooms more suited to family accommodation. When booking a hostel, however, you should establish what meals, if any, are provided.
Self-Catering – Many walkers prefer to stay in furnished and fully equipped houses or flats and this is an extremely popular choice of accommodation if you're planning on walking in the same specific area for a few days.
Bed & Breakfast – These range from people with spare bedrooms in their own houses to smaller hotels and guest houses. They're popular for walkers who like to have a hearty breakfast cooked for them to set them on their way and they're also useful as some B&Bs can often arrange local transport for walkers and their luggage to and from popular walking start points.
Bunkhouses – These can be barns or other converted buildings owned privately but separate from the owner's own house. They'll usually have their own cooking and toilet facilities but they can also range from the very basic to something almost resembling 5 star luxury self catering accommodation so you should do your research first to find one that suits.

There are hundreds of books and online resources which can help walkers with their transport and accommodation needs and, whilst any walking trip is never going to be like a 5 star all-inclusive holiday in the Caribbean, you should be able to plan your transport and accommodation needs with relative ease and according to your own required level of comfort for the most part.
You might also like...