Fell Running: Is it for You?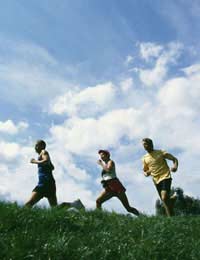 If you've ever been walking in the hills, you'll almost certainly have encountered someone in shorts and shirt, carrying nothing more than a water bottle, running. If you're in the middle of a steep climb when this person goes by, you might well have thought he or she was crazy. But there's no craziness involved; it's simply fell running.
As a sport, it lies somewhere between hiking and cross-country running, although with a few twists. As the increase in runners shows, it's becoming more popular, and it's easy to understand why. It poses more of a challenge than cross-country, especially in the variant that includes orienteering as a factor, and it really does pit man against the elements. It's certainly not for everyone, since it's very demanding on the knees, but those who enjoy it really love it.
The History Of Fell Running
According to legend, the first fell race took place in Scotland a little before the Normans conquered England, when the king, Malcolm Canmore, organised a race in order to find as fast foot messenger.
Although it almost certainly existed after that, it vanished from the history books until Victorian times, when it started to feature as a sport at rural games, notably still really in Scotland, where trials of strength and endurance (think tossing the caber) had been part of the macho ethos.
It spread into England, where cash prizes for the winners proved a great incentive to runners. However, it remained largely a Northern sport, mostly because that was the area with the terrain for fell running, whether in the North East, the Lake district, or as far south as the Peaks – going into the Midlands and the south, the landscape isn't rugged enough.
The prize races continued, but simultaneously runners who could be classed as amateurs – running other races, just for glory – emerged, and several big events sprang up. The two strands remained separate for a long time, and it actually wasn't until 1992 that the sport become open, meaning all runners could compete in all the events.
Types Of Fell Running
Although it might involve a little scrambling over rocks, fell running doesn't have any climbing; it's really very much feet on the ground. What marks it out from its close relation cross-country running is the difficulty of the terrain – hilly, often steep and hazardous, with longer courses frequently unmarked.
That leads into another strand of fell running, which combines racing with orienteering, meaning runners not only have to be very fit, but also possess strongly developed map reading skills in order to complete the route properly, making it a demanding sport both physically and mentally, as the competitors have to go between established checkpoints (as they do in all fell running), but find their own way from one to the next. There are even marathons which involve overnight camping (carrying the gear) as a real test of endurance.
It's a sport that requires plenty of training, even for experienced road and cross-country runners. To prove that fell running is now a properly established sport, manufacturers have begun marketing gear, especially shows, aimed purely at fell runners, whose needs are different from both hikers and regular runners.
There are several organisations for runners, notably the Fell Runners Association and the British Open Feel Runners Association (Wales, Scotland and Ireland have their own groups), which together have a calendar of well over 500 races every year. As a sign of how far fell running has now spread, there's now also a World Mountain Running Association.
You might also like...