Walking for Fitness: A Plan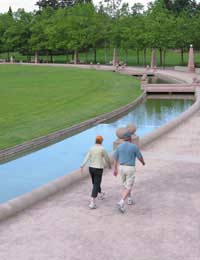 It's hardly a secret that walking is great exercise, and an excellent way to increase your fitness levels. It's probably the easiest and cheapest form of exercise you can undertake, since at its basic level it requires no equipment at all.
But if you're planning on using walking as an exercise programme, or part of one, you need to have a plan to do it properly. It requires a commitment and the willingness to stick to your plan.
Making a Start With Walking
Everyone walks, even if it's just round the house and to the car. But to make use of walking as real exercise, you need to check a few things first. Go to your GP and have yourself checked to make sure you're able to undertake an exercise programme. Then you should buy yourself a pedometer. Although not strictly necessary, it helps you keep track of how much ground you've covered.
People walk at about three miles an hour, and to have any aerobic effect you need to undertake at least half an hour's exercise several times a week (five is recommended), so to begin you should plan on covering 1.5 – 2 miles at a time in about 30-40 minutes. The trick is to keep doing it regularly. Set yourself a schedule, walking at lunchtime or in the early evenings, and keep to it.
Stick to the flat at first, without the strain of hills; you can work up to them after a couple of weeks. Plan your route around the neighbourhood, or, if you live somewhere more rural, in an area away from cars.
If you have a reasonable level of fitness already, but don't walk much, you can still use this as a first step. Those who don't walk much might find their legs ache a little at first, but that will soon pass. If you do experience breathlessness or dizziness, stop and go to see your doctor.
Building Up
Once you've had a couple of weeks at the first level, you'll be ready to build up a little. You should find walking easier, feel more sprightly, and ready for a little more of a challenge. If you're hoping the pounds will melt away, it won't happen overnight, but over the months you'll gradually lose weight and build muscle tone.
Remember that exercise still needs to be regular to be effective, so you'll need to make the time for walking. Increase to an hour and include some hills, just to push yourself a bit (nothing too steep unless you know you can handle it). Keep up the three miles an hour pace.
You could also go hiking on the weekend. It doesn't need to be a marathon or a hill challenge, but perhaps four or five miles out in the fresh air. A change of scenery can add zest to your walking. At this point you might even want to join a rambling or hiking group that gets out regularly, although be sure to tell them you're just starting out.
The longer you stick to it, the fitter you'll become and ready for greater challenges. Keep walking during the week and make time on the weekends to get into the country and enjoy walking there.
Remember, you won't achieve staggering results overnight. As with any sensible exercise programme, it takes time and application to see a change. Don't overdo it, work up gradually, and above all, enjoy it – otherwise it'll simply seem like a chore.
You might also like...
Hi Coralie. I can highly recommend regatta blister socks. Have tried lots of more expensive and cheaper varieties but these win every time. It's a kind of cotton lining with woollen outer. Also if your dogs are large, fit and strong, when you're getting a bit out of breath, they'll happily pull you up a slope on lead! :-)
Trying my best
- 20-Feb-18 @ 1:58 PM
Coralie - Your Question:
Hi, 1st time on this site! I walked up Moel Famau a couple of years ago and was in agony with toenails, 4 of which fell off. I want to start walking regularly in hilly/mountainous terrain. My main concern is Mortons Toe where my second toe is longer than my big toe. It was very painful. I've invested in larger, more comfortable walking boots which I'm breaking in around the house. Any further advice would be very welcome.I also have two dogs and any advice/signposting would be great. Thanks! Coralie
---
Our Response:
Take your boots for short walks for a good few weeks before extending the length. Larger boots are a great idea but make sure your feet aren't slipping around in them...good blister socks are worth every penny, a good outdoor shop should be able to advise you on this. There are also various pads and insoles that you can buy to help with pain that may be caused by Morton's foot, but it might be worth seeing your GP or a Chiropodist for more advice on that. Moel Famau has an easy route and slightly more arduous route but it's not excessively steep or difficult until you get near the summit. It might be worth starting on a lower hill for a few weeks...gradually increasing the length and gradient etc. If you live near to Moel Famau, there are plenty of hills to try. Loggerheads country park is great for dogs and you can choose whether to ascend via steps or slope etc.Let us know how you get on.
WalkingAndHiking
- 20-Feb-18 @ 1:54 PM
Hi, 1st time on this site! I walked up Moel Famau a couple of years ago and was in agony with toenails, 4 of which fell off. I want to start walking regularly in hilly/mountainous terrain. My main concern is Mortons Toe where my second toe is longer than my big toe. It was very painful. I've invested in larger, more comfortable walking boots which I'm breaking in around the house. Any further advice would be very welcome. I also have two dogs and any advice/signposting would be great. Thanks! Coralie
Coralie
- 16-Feb-18 @ 10:06 AM