How to Prevent Walking Injuries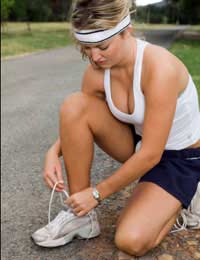 Those who walk or hike are far less likely to suffer injuries than others who take part in more vigorous exercise or play contact sports. However injuries do occur and are often the result of a lack of preparation, inadequate or over-training, ill fitting shoes, boots or socks, poor flexibility, a failure to keep hydrated and improper nutrition.
Pre-Walking Preparation
You should ensure that you buy sturdy footwear which fits correctly. Often this means buying boots or shoes that are a half to one full size larger than your usual footwear. This is because hiking or walking for several hours has the effect of making your feet swell temporarily so they need room to expand. You should also wear soft socks which absorb moisture to prevent blisters. Remember to take a sufficient supply of fluids on board throughout your hike and to ensure that you eat an adequate supply of carbohydrates and protein both throughout your walk and after it.
Preparation for Beginners
Like any sporting activity, it's important that you don't overdo things, especially when you're a beginner. Walking further than you are used to can take its toll on your body and distances should start off small and only be increased gradually to prevent injury due to over-training. You also need to take proper rest between sessions to allow your body to recuperate. Be in tune with what your body is telling you and, should you experience any pain, you should postpone your training sessions until it has subsided, otherwise you run the risk of doing yourself more serious physical damage.
Preparation for all
Whether you're a novice or an experienced walker, it's important that you establish a stretching routine before setting off on a hike. Unless you do this, your muscles will remain tight and are more likely to suffer injury. You should stroll gently for 10 minutes before setting off on a walk, stretching regularly. You should hold each stretching routine for around 20 seconds and make sure you're stretch is achieved gently with no bouncing or jerking movements. Your stretching technique should not be designed to stretch you to your limits. Gentle squats, lunges, step-ups and step-downs are some of the more commonly practised stretching techniques. If you do experience any pain or discomfort whilst performing your pre-walk exercises, you are stretching too far. Both pilates and yoga techniques are very useful in demonstrating correct stretching techniques.
Increasing Your Training
Don't run before you can walk. Whilst it helps you stay motivated to set yourself goals and targets you should build up your distances or time spent each training session slowly and gradually. A good guide is not to increase either the distance or time you are aiming for by more than 10 to 20% each week.
During Your Walk
Make sure that you learn the correct heel to toe method of walking. This will reduce the impact on your ankle joints and learn the basic techniques of walking up and down a hill or gradient. Things like knee braces and hiking poles can also reduce the impact of walking on your body. Keep hydrated and make sure that you take in enough food of the correct type.
After the Walk
Whilst most of us are familiar with warming up before exercise, you should also warm down after it. Gentle stretching exercises for a few minutes after your walk will help to keep your blood flowing and aid your recovery. Massage, ice packs etc., are also good for keeping any inflammation to a minimum and lessens the likelihood of you experiencing post-walk pain.
You might also like...