Starting a Walking Club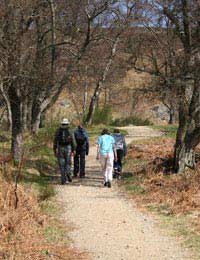 If there are no walking clubs or groups close to where you live why not start one yourself? It's an ideal opportunity to socialise and to make new friends and it's often more fun than simply walking alone whilst also enabling you to become more committed towards your own walking.
How to Start a Walking Club
Starting up a walking club needn't involve expensive advertising. You should be able to put up posters in your local library, health centre and, maybe your local post office or one of your local shops, either for free or for little money. The poster should invite potentially interested walkers to a meeting at a certain place on a set time and date. You may be able to hold this in your local community centre or library. Remember to include your name and a phone number and/or an e-mail address where you can be contacted.
Holding the Meeting
Don't be put off by the thought of holding a meeting. A meeting of this nature will tend to be pretty informal and will evolve naturally. Some of the things you're likely to discuss will be how often you intend to hold organised walks, for example, every weekend, one weekend per month etc. Are you going to be walking locally or do you intend to travel to scenic areas some distance away? If you're travelling, you'll need to discuss transportation arrangements. Remember, all interested parties may not drive or have their own car so you may need to make provisions for that and have some car owners willing to take those who don't have a car or, perhaps, consider hiring a minibus. As things progress, you'll want to discuss different routes, what time you'll set off, where you'll meet and how far you intend to walk.
Other issues might include whether or not you plan on walking year round or just in the spring and summer? Are you going to have regular meetings or simply meet up whenever you walk? In fact, your walking club can be as formal and organised as you want it to be. For example, you may want to appoint a treasurer and have a club bank account or it can be 'loose' and informal instead.
Keeping Motivated
People who join a club of any kind like to keep in touch with other members. The internet has made this even more possible and you may want to set up a website and/or a forum where people can exchange views and tips and to share information about future planned trips etc. You may be looking to combine your walking with another focus. Perhaps, your club is aimed at helping people to get fit and lose weight? If so, and you hold regular meetings, you could maybe get a local 'guest' speaker such as your doctor or a fitness instructor to come along to extol the virtues of walking as a fitness activity. You might also look at other ways to recognise members' achievements to increase their motivation. Maybe, you'll want to produce a regular newsletter which you can either post or e-mail to members. This could include personal accounts and photographs of recent trips and details of planned forthcoming trips, social events etc.
In fact, there are no limits as to what your club can include. You'll find that people come with many different skills and are willing to 'add value' to the club in ways that you've not thought of previously. The bottom line being that you'll all be sharing a common interest, you'll make new friends and your group will enable all its members to enjoy their walking even more than they did previously. It may even give some new walkers a new lease of life in participating in a group activity that they'd never before dreamt of joining or didn't know where to start looking.
You might also like...
Hi I'm a naturist from North Wales and wanted to reach out to people that would like to join a clothing optional walk what's the best way to reach people.
Do I need insurance for a walk/run group?. It's a completely free group so no joining fee or charges. It's run by volunteers. I don't want to have to pay to take people out for free! Thanks
Rach
- 11-Sep-23 @ 7:56 PM
What sort of paperwork/ registration/ insurance might you need forwalking group?
Jools
- 13-Oct-20 @ 9:06 AM
Do you have to have public liability insurance for a volunteer walking group to walk around local park s
Hello, Do you know of any software that facilitates putting together walking/hiking clubs programme schedule? I am looking for something akin to software used for school timetable scheduling but geared to walking clubs. Ability to have 4 different grades walks twice a week balanced over various locations within a region and based on the availability of the walk leader. Regards Kelly
Kelly
- 31-Mar-20 @ 12:53 PM
do you have any advice on the need for public liability insurance? - couldn't see anything on the site Thanks
fzb78g
- 17-Nov-18 @ 6:03 PM
Daniel Reynold - Your Question:
I tried to set up a walking trekking group I put up posters organised a set date for a meeting but no one came.i live in south Devon there are loads of walking groups in the area.i thought of doing something different from other groups.i thought of à walking artists group where we trekking and paint or sketching and we would go on weekend breaks and week holidays from time to time but not local walks.the question to find the people.Daniel
---
Our Response:
Start by approaching your local council, they should have lists of places where you can publicise your events. Facebook, Twitter and other social media avenues are also good places to try. You need to approach other groups directly by emailing, posting on their pages or tagging them in your posts/comments. Try artists groups and community websites etc
WalkingAndHiking
- 7-Feb-17 @ 12:28 PM
I tried to set up a walking trekking group I put up posters organised a set date for a meeting but no one came.i live in south Devon there are loads of walking groups in the area.i thought of doing something different from other groups.i thought of à walking artists group where we trekking and paint or sketching and we would go on weekend breaks and week holidays from time to time but not local walks.the question to find the people. Daniel
Daniel Reynold
- 6-Feb-17 @ 1:41 PM
I tried to set up an walking artist group.i arranged a meeting I put posters up before the meeting like 2 months before but no one came or contacted me isxit a good idea to have a walking artists group different from a walking group? I live in south Devon. How do I find the people? Daniel
Daniel Reynold
- 12-Jan-17 @ 2:24 PM
I plan to set up an artist's walking group I've tried and had no responses. I decided to arrange a pub meeting firsfirst but no one came. I live in south Devon. How do I find people? Is it a good idea to have a website? Is it a good idea to advertise locally or all-over the country? Thankyou Daniel
Daniel Reynold
- 12-Jan-17 @ 2:02 PM
Thank you, this is really useful as I am thinking of setting up a walking group where I live. Just a question though, does the group need liability insurance and such like?Thanks
Sam
- 31-May-11 @ 10:14 AM