Get Involved in Protecting Footpaths & Countryside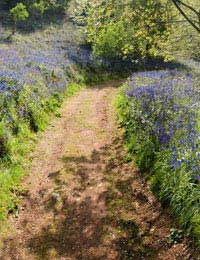 Many of us take great pleasure in getting out and enjoying the countryside and there are many things we can do to protect our footpaths and the countryside around us so that they can be enjoyed by future generations just as we have enjoyed them.
The Countryside Code
At a very fundamental level each and every one of us who spend time in the great outdoors have a moral duty to learn the basic principles of the Countryside Code and to apply them. Not only will this make our experience of the countryside more enjoyable but it will also help its conservation and preservation. The basic principles of the code advise us to be safe, to plan ahead and to observe any signposts. We should leave gates as we find them. More often than not, this means closing any gates behind us but sometimes gates are kept open for a reason so it's important we bear that in mind too. It's also necessary to protect plants and animals which, for the most part means leaving them undisturbed. If you have a dog, you need to keep it under control and remember to take any litter you have created with you and dispose of it properly.
Practical Things We Can Do To Help
There are many different ways we can actually get involved in protecting our public footpaths and preserving the countryside and the Government's Countryside Access website has numerous links to organisations who are dedicated to this pursuit, many of whom are always glad of additional help from members of the public. Even your local authority or council will have a department who deals with these kinds of issues so it's worth making contact with a relevant body if you're looking to offer your services on a voluntary basis.
Some examples range from 'adopting a path' where you might be involved in a team responsible for clearing any litter or removing rubbish from a canal or maybe trimming back a hedge, clearing nettles or brambles or helping to repair a faulty stile or gate on a particular stretch of path. Many outdoor trails, parks and woodland also have park rangers and it's worth speaking to a ranger to see if there are any initiatives in which you can get involved.
Other Ways You Can Help
You don't necessarily have to be handy with a hammer or have to don your gloves and wellies to help protect your nearby countryside. There are many other things you can do to play your part. For example, organisations often need volunteers to help distribute leaflets and even help with creating them. You might also wish to get involved with any local fundraising schemes. For those who enjoy talking, you can be active in lobby groups if you're looking to get your opinions across to the likes of local MPs, councillors, country planners and the like. Furthermore, there are other ways you may not have previously thought of which can go a long way towards protecting the countryside. For example, reducing your use of the car and air travel not only produces less carbon emissions which, in itself, is damaging to the countryside but failure to do this only leads to a greater demand on road and airport infrastructure which ultimately leads to more countryside being destroyed with extra roads and runways being built to cope with the demand.
Buying locally produced foods and promoting them to others helps farmers conserve the character of the local countryside and, it often tastes better too! Use less water and create less waste. Demand for water leads to more countryside being ripped up to create reservoirs and if we don't recycle where we can, more of it is going to be accounted for by the need for more landfill sites. Put your money where your mouth is and make regular donations to those charities and organisations who badly need financial resources if we want them to look after our countryside and get involved with your local area's town and country planning system and have your say.
Whether it's actual physical help out 'in the field' or getting your voice heard or making a contribution in some other way, you need to take action now if you want future generations to be able to enjoy the benefits of our public footpaths and countryside for many years to come.
You might also like...