Hiking With the Disabled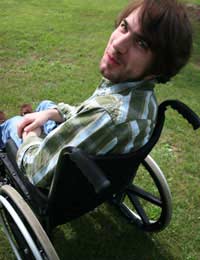 Hiking is usually thought of as an activity for those who can walk well. That's not the case any longer, however. These days it's understood that those who are less abled enjoy getting out in the countryside, too. That has brought about walks for the disabled all over the United Kingdom. It's part of a general movement to include the disabled in all manner of outdoor activities, ranging from skiing to canoeing.
In part this is due to the Disability Discrimination Act, but the rights of the disabled are moral as well as legal. The result has been the creation of wheelchair-friendly trails in all the National Parks. Another benefit of these paths is that parents can now also take babies in pushchairs on these trails, letting families enjoy the beauty of the country as well. It's become a global movement, as other countries, especially the US, have embraced the idea of trails for the disabled.
These days there are books offering a range of wheelchair walks for various areas, as well as websites that offer advice. Finding somewhere to go hiking with someone in a wheelchair couldn't be easier. By their nature, the paths are flat, but still offer good exercise.
National Parks
Within each of the National Parks there are trails that are designated for wheelchairs, offering level access from car parks, all of which have reserved spaces for Blue Badge holders, so parking is no problem.
If there's one thing wrong, it's that these paths usually aren't too long; they're often no more than a mile in length. In part this is due to the terrain, but also the expense of creating paths wide enough and flat enough to accommodate wheelchairs.
On the plus side, there is now plenty of wheelchair-accessible accommodation within the National Parks, making it very possible for the disabled to enjoy full holidays in the country.
Information on accessibility for the disabled in the various National Parks can be gathered from their sites. Some do have more access than others, but all offer a certain amount of freedom to those in wheelchairs.
Canals
Canal towpaths have to be largely flat and wide, since they were built for the horses that towed canal boats in the days before mechanisation, and so they make ideal paths for those in wheelchairs.
As more and more of the old canals are reclaimed and rehabilitated, so the number of accessible walks increases. In a number of places it's quite feasible to go several miles alongside canals in a wheelchair without encountering an obstacle. They might not have the wild beauty of a National Park, but they are level, with good parking available, and can make for a great walk on a summer's day.
Equipment
It's strongly advisable to take along a daysack or bag containing bottles of water, as well as snacks or a small packed lunch when going on these hikes. The distances might not be long, but they can take time to complete when pushing a wheelchair. You should also carry a mobile phone to alert people in case of any kind of medical emergency.
You might also like...
Hi I can see this article is wellintentioned but it seems pretty empty on information. A link to a list of walks would be helpful rather than just what seems like a philosophical discussion without any practical applications.
A niknom
- 29-Dec-18 @ 8:11 AM