Hiking in Winter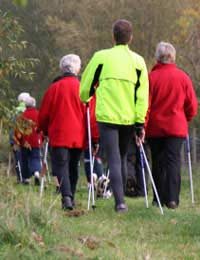 There are those who stop hiking as soon as the weather turns cold, and there are others who relish getting out on the trails in winter. They love the cold, and the fact that the open spaces in winter offer a great deal of freedom, and an exquisite challenge.
But for anyone contemplating winter hiking, it's worth remembering that the safe paths of summer can be a lot more dangerous in the winter. If the weather is harsh in the cities, it's much more so out in the country, where temperatures can fall very low, and conditions can turn without warning.
Preparing For Winter Hiking
You need to be very well prepared before heading out to do some winter hiking. Good gear is essential, because there's no way of predicting what the weather and the ground will be like when you're out.
Dress sensibly, in layers, several of them depending on conditions, with a warm coat that's also waterproof. Trousers should be sturdy, but made of a material that will also dry easily. Use gaiters, and boots definitely need to be waterproof, with a good, sturdy pair of hiking socks. Don't go out without gloves, but not woollen ones, which just absorb water; it's much better to have a lighter, thermal material.
Sustenance
That's only part of the preparation, however. In your backpack you need to carry plenty of food, particularly energy-giving snacks like trail mix, raisins, and chocolate, along with ample water. Additionally, have something like a reflective blanket that folds up well, to keep you warm in case you become lost or injured.
It should go without saying that you'll have a first aid kit, a torch (with strong, working batteries), and a mobile phone, fully charged. Additionally, you should never venture out without the appropriate OS map, a working compass, and preferably a GPS receiver, which can literally save your life if things turn bad.
Things To Remember
Being out in the cold saps your energy much faster than being in typical British summer heat. It's vital to remember that, and it becomes doubly true if there's a thick covering of snow on the ground. That means planning your route appropriately, especially if you're taking the kids (and children often think a winter hike is great fun).
Be aware of the conditions. Pay attention to weather forecasts, and don't go if heavy snow is likely. Remember, out in the country, roads and paths can become impassable with snow quite quickly, and the gritters and ploughs might not get to them for days or weeks.
Tell people where you're going, and what time you expect to be back. That way, if you encounter a problem, they can inform the authorities, who can look for you. Unless you're extremely experienced and well-trained, stick to the main trails, and if you can't see them, that means it's time to turn back, for safety's sake.
Don't allow yourself to become too cold. Out in the wilds the wind chill can lower the temperature by several degrees, so make sure all parts are well covered. In the event of a problem, or accident, first do all you can to make yourself warm, then try your mobile to alert the appropriate people. The same applies if you become lost.
Winter hiking can be great fun – as long as you do it right and take all the proper precautions.
You might also like...