The Right Backpack For Hiking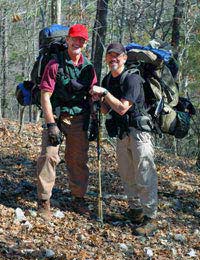 Choosing a backpack for your walking or hiking trip will depend on both the length and nature of your trip. So before you head out to buy a rucksack, you should consider the types of walking trip you're going to make most frequently. Some packs are designed for extended hiking trips of more than 5 days. They're usually heavier, not just because you'll be taking more with you but also because the frames and suspensions have to be able to carry heavier loads. Other backpacks will be smaller and lighter and more ideally suited to people who are just hiking for the day and, therefore, do not need to carry additional items such as a tent and other related camping equipment. These are called day packs.
The Basic Designs Of A Backpack
These days, almost all backpacks come with an internal-frame design. This type of design helps with balance and gives you the ability to move about more freely. Most decent rucksacks come with suspension systems which are padded. They have accompanying contoured straps for your shoulders, back and hips. The designs differ to an extent depending on the kind of hiking trip you're looking to take. Some backpacks focus more heavily on keeping things as light as possible, such as day packs, whilst others are designed more towards comfort, durability or convenience.
Getting the Right Fit With A Backpack
Just as you should do when buying a pair of hiking boots, it's better if you try a pack on before buying as your height, weight and build will all have an impact on how a pack feels when it's strapped to your back and you're walking. If you do intend to buy unseen, for example online however, you should get a friend to measure your torso from your shoulders, (the correct point being where the vertebra protrudes out furthest from your spine and measure the distance from there to your hip bone. This is referred to as the 'torso spec' when buying a rucksack and most reputable websites will include the torso spec on each of the packs they sell. Some packs allow you to adjust the torso fit using adjustable suspension systems whilst others are non-adjustable but have the added bonus of being less complex and are usually lighter than adjustable models. However, you still can't beat trying one on in person to be sure as they also come in different kinds of material and you'll probably find you prefer the 'feel' of wearing one backpack over another. There are also models which are specifically designed for a female because the contours of the female body generally tend to differ to those of a man.
Features and Options With Backpacks
Backpacks come in all shapes and sizes and with many different distinguishing features in terms of the different side flaps and pockets and what they're designed to contain. Some will come with rain covers to protect your pack from the elements when you're hiking, and so that you can avoid getting caught on the likes of brambles, thorns and gorse bushes if you've strapped on any wet gear to the exterior of your pack. Others have specifically designed accessory pockets for things like GPS devices, cameras and mobile phones, all useful when walking, and some varieties come with compartments for things like trekking poles.
The choice is limitless and will be often be determined by the sort of things you're looking to carry on your hiking trip and the ease of access to the most important items you'll be looking to carry. First and purpose are, however, probably the most important considerations you'll want to make when choosing a backpack and the best advice would be to visit an outdoor specialist who will be able to show you the most appropriate selection of rucksacks or day packs to choose from.
You might also like...
Any good backpack will have both waist and chest straps so it will help sit properly on your frame without shifting around. Make sure anything you're considering has these features. Even a daypack will have a waist strap. Virtually all backpacks are waterproof, but a cover will prevent moisture leaking inside. Use the straps when walking and you'll find travel more comfortable, as long as you have things distributed well in the pack.
Tim
- 14-Jun-12 @ 8:31 AM