How to Prevent Muscle Pain and Stifness When Walking?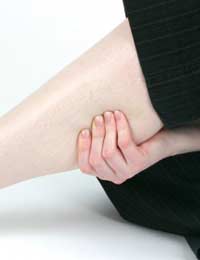 Q.
I recently climbed a 2900 feet high mountain in Wales and experienced no problems until I started the descent when I experienced a lot of pain in my thigh muscles and some stiffness in my kness. My legs were extremely painful towards the end of the walk, when I was forced to rest after descending every 8 -10 stepping stones. My fellow walkers did not face these difficulties. What can I do to prevent leg muscle pain in future?
(D.L, 3 May 2009)

A.
Your problem isn't as unusual as you might imagine. It's quite possible that the pains you were experiencing towards the end of your walk were cramps. It's something that affects walkers, cyclists, runners, pretty much anyone who exercises a lot.
So why does it happen? Scientists aren't sure why cramps hit one person and not another, other than differences in physiology. But obviously you suffer from it, at least on this occasion. The bigger problem is how you can avoid it happening in future.
The biggest factor is hydration. Make sure you drink plenty of water on your walk. You'll sweat out a lot (especially if you're climbing a mountain that's almost 3,000 feet high) and you need to replace that. It might mean you need to carry more water with you, but that's much better than what you experienced. It's probably the single biggest solution to avoiding cramps and muscle pain when exercising. You might also consider having a bottle of a sports drink, since that not only hydrates you, it also helps replace the electrolytes you sweat out, and a depletion in electrolytes can also cause muscle pain.
The most important of those is potassium, which you can find in ample quantities in bananas. Eating a couple of your walk can also decrease the likelihood of cramps and muscle pain after several miles. Magnesium is also vital, and some people have had success by taking calcium supplements with magnesium for a couple of days before walking. You might even consider adding a little extra salt to your diet for a few days before some major exercise. Even if your blood pressure is high, it's worth doing in the short term for the difference it can make.
It could well be that you experienced the problem because you exerted yourself far more than your body's used to – pushing it beyond its limits, in other words. That can definitely be a contributory factor. Rather than going for it, the more you gradually work up to a goal the better your body will be able to handle it. Training really can make a difference as your body will tolerate more. Put all those things together and you should avoid cramping problems in the future.
You might also like...
I have signed up to do a 26 charity walk this summer. I am 16 odd stone and do a desk job so I'm not the fittest bloke! However, I have been doing a bit of training over the last few months starting off with short two mile walks. I can now easily reach 12-15 miles but I've hit a wall. At about that distance I start to feel light-headed, my legs and feet hurt and I have been physically sick a couple of times. I use a hydration pack and drink constantly, I take a good supply of trail mix with me and I stop regularly to rest but I still hit the barrier. Any thoughts?
Pete
- 21-May-11 @ 2:53 PM