What Are the Rules on Wild Camping?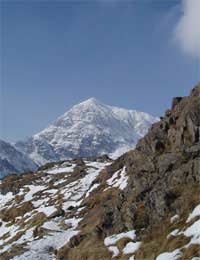 Q.
A friend and I are preparing for a charity walk from Cardiff in South Wales to the summit of Mount Snowdon in North Wales. We will be wild camping all the way (setting up camp in different areas each night about 15-20 miles apart).
We'd like to know the law/rules about wild camping as we do not wish to upset anyone on this charity event.
(E.H, 14 March 2009)

A.
There are set laws for wild camping – that is, simply setting up camp where you are, rather than in a specific area put aside for camping - in England and Wales (the laws are a little different in Scotland, but on this trip they won't affect you, obviously). The thing you need to consider is the fact that someone – be it a private individual or the National Parks - owns every acre of ground. So that means that at least in theory, you need someone's permission to make a camp.
In practical terms, though, that doesn't apply. You'll find that in most instances, as long as you're out of sight of farmhouses and on higher ground, you should have no problem – make sure you're above the intake walls, and you don't stay for more than two nights. In those cases, wild camping is generally accepted.
Within the National Parks, you actually have a fairly free hand when it comes to wild camping, since it's covered in the Access Act of 1949. Under that, unless you're on a campsite, you can only set up a wild camp in the same place for two consecutive nights, and you have to be more than 100 metres from a road, and you can't be in an enclosure. Other than that, it's fine, with a few small exceptions.
Of course, you should observe the usual rules of camping and clean up after yourselves, making sure you don't leave any traces when you walk on. All your toilet duties should be performed at the very least 30 metres from any water, and you should bury them carefully using a trowel (so remember to carry one with you!).
You should find that if you approach the situation with proper care and diligence, then you should have no problem, although sticking to the higher ground will be your best bet (which should be no problem as you hit Snowdonia, where you'll also be in a National Park).
You're undertaking a long walk, and the wild camping means you'll need to take a fair amount with you, and there's a long climb at the end of it all. Pace yourselves, enjoy it, and good luck!
You might also like...
~~ - Your Question:
I want to go out camping with my friends however were not even putting tents up and we're having an all nighter I was wondering if we were actually allowed to do this as I'm quite worried about getting caught
---
Our Response:
This depends on where you decide to camp. Some National Parks allow wild camping but you must clear up after yourselves etc. If you do an internet search on places where you're allowed to wild camp, you can make an informed choice. Unfortunately as we don't know where you are in the UK, we cannot make any specific recommendations. Make sure you take some kind of weather protection like bivvie bags and show respect for any farmers and livestock. If it's a clear night, you'll get some great views of the stars - have fun!
WalkingAndHiking
- 21-Jun-16 @ 10:50 AM
I want to go out camping with my friends however were not even putting tents up and we're having an all nighter I was wondering if we were actually allowed to do this as I'm quite worried about getting caught
@Coley. Take a look at the
Lake District National Park site
for details on where to wild camp (and the rules) in the Lake district
WalkingAndHiking
- 30-Jun-14 @ 11:21 AM
I am inquiring about wild camping at Castlerigg and what are the rules? any advice would be appreciated Nicole
COLEY
- 26-Jun-14 @ 4:55 PM
I'm also interested in wild camping and the rules and regulations, In the above comments it says that you remain within the law if you stay for no more than two nights does this apply on most (Green belt) rural places across the U.K. obviously asking permission when possible, The reason I ask is I plan to do some exploring/hiking but am hesitant with running the risk of a)breaking the law and b) confrontation or conflict with landowners. Any advice/tips would be appreciated Thanks
Ace007
- 29-Jul-13 @ 4:23 PM
As you're on a charity walk you'll only be spending a single night in each location, so length of stay rules won't apply.Just make sure that when you leave your site in the morning that it looks as if no one had ever camped there – that helps keep it all really wild.
Dan
- 27-Sep-12 @ 11:14 AM
He's right. As Snowdon is in a national park, you will pretty much be able to camp wherever you like within the park. But it's worth checking to see where th4e boundaries of the park lie, and if you'll be outside them at any point, then you'll need to be sure you obey the letter of the law.
Daffyd
- 31-May-12 @ 1:48 PM