Safety Products for Walking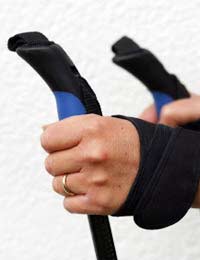 The range of equipment related to keeping safe whilst out walking will very much depend upon the type of walk you're embarking upon. Walking along roads, for example, is going to be quite different from, say, a wilderness trek where access to supplies is going to be very limited. Therefore, factors such as the weather, the environment and terrain and the length of your walk will all have an impact upon the type of safety equipment you'll be looking to carry with you.
Walking Aids
Hiking poles come in all manner of materials and designs often specific to the type of terrain you're going to be walking in. Some people will choose to use a simple walking stick in less harsh terrain whilst in more challenging environments, many hikers will tell you that it's far better to use a pair of proper hiking poles. The use of a stick or a pair of poles will help you in a number of ways. They can help to relieve the pressure from your knee joints which is especially useful if you're making any steep descents and will also assist you with your breathing during ascents. They can provide support and stability where you may need help with balancing such as during a storm or when you may need to cross rocky areas or shallow streams. Also, although they aren't designed for this specific purpose, they can, theoretically, be used to ward off any unwanted attention from wildlife which might threaten to get too close so although this would be rare, it can give you an extra sense of security and peace of mind.
First Aid Kits
A first aid kit is a must, especially if you're walking off-road, although it's also worth carrying a few basic supplies even if you're in the city if you're out on a long walk as accidents can happen anywhere. First aid kits come in all sizes to suit any kind of trip but a basic kit should always include things like plasters (Band Aids), bandages, perhaps a splint, antiseptic ointment or wipes, sting relief, sterile pads, tape, gauze, blister pads, latex gloves, tweezers and any antihistamine medications if you suffer from any allergies. It should also include a packet of Paracetamol as pain can come in any form, be it from a fall, a cut, scratch or graze or even a headache and perhaps some anti-inflammatory medication such as Ibruprofen would be a good idea too. Don't forget to take any prescription medication with you also. Obviously, the nature of your walk will usually determine the exact composition of your first aid kit.
Navigational Aids
There is another article contained on this website which deals with the various kinds of navigational aids that you might consider taking but, whilst on the subject of safety per se, it's worth re-iterating the importance of taking equipment such as maps, compasses, GPS tracking devices etc.
Reflective Clothing
Reflective clothing or strips sewn or attached to your clothing when walking on roads in the dark is crucial, especially if you're walking on roads which have no pavements or street lights in certain areas in order to make yourself visible to traffic and to avoid road accidents.
Other Items
A multi-purpose knife will serve a vast range of purposes if you're out in the wilderness from cutting wood for fires to assisting with food preparation to helping cutting bandages to the correct size - the importance of a knife should never be understated. Likewise, a whistle - it will usually be your first method of signalling for help if you're faced with a survival situation.Of course, there are many other items which would fall under the banner of 'safety accessories and equipment' which are associated with walking and hiking, such as items of protective clothing and the likes of water purification tablets and more details about these and many other useful safety related products are featured in several further articles contained on this website.
You might also like...
Hi.I have invented a safety walking stick ALARM that the user does not need to press any buttons to sound it.It could be used by anyone using a stick.I have a patent applied for notice.It would be most usefull for any one that has a fall,and is knocked out. Please reply if interested.I could send you the drawings if you send me a letter saying you will never tell any other person or persons about the workings of the alarm.Thank you. I look forward to hearing from you.
robitybob
- 9-Sep-13 @ 10:03 PM