The Two Moors Walk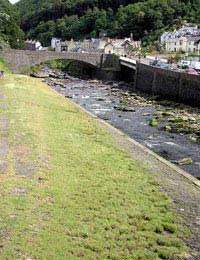 Devon has some of the loveliest and most varied scenery in England, from the bleakness of Dartmoor and Exmoor to the lush rolling green of the coastal areas. One of the best ways to experience all the glories of the county is to take the Two Moors Walk (even if almost a quarter of it is actually in Somerset). The official path takes you from the South of Devon (there's an extra spur that runs to the South coast) to Lynmouth on the North coast. Along the way you get wonderful tasters of everything Devon has to offer, from the grandeur of the views to rivers and almost desolate moors. It's the oldest of Devon's regional footpaths, put together in the 1960s from existing rights of way, in the face of opposition from landowners.
Geography
You start at Ivybridge, where there's a logging-in centre for walkers, as well as an information centre. From there you undertake a fairly rugged, lonely stretch across the southern end of Dartmoor National Park. That takes you to Dr. Blackall's Drive with its stunning views, before you tackle the ridge at Hameldon, eventually leaving the moor at Drewsteignton.
That's the toughest part of the hike. By comparison, much of the remainder is positively pastoral and gentle, especially the section through the middle of Devon. It brings you onto Exmoor, which is also a National Park, at Anstey Common. In spite of its reputation, Exmoor isn't all bleakness, although you will find some wonderfully lonely expanses. But you'll also walk along some of England's loveliest and most unspoilt rivers. You'll finish up at Myrtleberry Hangings before the last, downhill push into Lynmouth - and great views of the water on the way.
For the moorland, it helps if you can read a map, but overall this is an easy extended hike, perfectly suitable for those who've never covered long distances before.
How Long is it
At 103 miles, it might seem a little daunting. But even for the inexperienced, it's covered easily and comfortable in a week, and there are established stops along the route. There's even a service that will take your belongings from one stop to the next.
Places of Interest
If pretty rural villages are your cup of tea, you'll find them at Witheridge and the wonderfully-named Black Dog. For those fascinated by history, it's worth taking a look around Chigford. This was a "stannary" town, one of the centres of the tin mining industry that was a vital part of the region's economy for several centuries. But Dartmoor itself can be spellbinding, with plenty of tors, medieval "clapper" bridges, and crosses that are in the middle of nowhere. It can seem like a prehistoric landscape at times, with the erected stones known as menhirs and burrow burial mounds - there's even the remains of a Bronze Age village near Widdecombe.
It's certainly a walk of many contrasts, which makes it all the more appealing. In the Mid-Devon area you can still find old houses constructed from traditional cob and thatch, while parts of Exmoor are home to ancient oak groves.
Getting There
Ivybridge is readily accessible by train from Plymouth and Exeter, and there are also bus services. Lynmouth is also well serviced by buses. If the entire walk seems too much for you, the Exeter-Barnstaple line runs to Morchard Road, pretty much in the centre of Devon and on the walk.
Walking And Hiking is sponsored by Purely Energy, who have funded a lot of our content. If you are looking for a low cost business energy supplier, take a look at their website.
WALKING AND HIKING IS FOR SALE.
This website is for sale [more info].
You might also like...