The Great NZ Challenge: Hiking the North West Circuit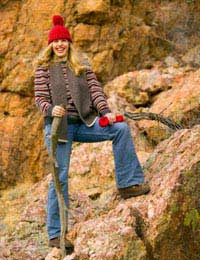 There's challenging hiking, and then there's extreme hiking, and the infamous North West Circuit on New Zealand's Stewart Island (which lies just off the coast of the southern island) definitely falls in the latter category.
At just 125 kilometres (a bit over 60 miles) it might not sound too difficult, but when you consider that the average completion times is 10 days, you're looking at some very rugged, and often very muddy (Stewart Island enjoys rain 275 days out of the year) going. As the names implies, it's a loop track going around the north west of the island, generally starting and ending on the coast in Oban.
Before You Start
The thing to remember, especially for those used to long distance walking, is that you're not going to cover a lot of ground each day, and that you're going to get wet, so waterproof clothing is vital – at times you're going to be up to your knees on mud.
Plenty of people have managed the circuit, and it's well mapped, with huts for sleeping and resting all along the route. However, you'll definitely need to take ample food for the trip, and, as ever, be provisioned with a good map, compass, first aid kit, and a way of summoning aid if necessary. It's up to you how far you try and travel each day, but at an average pace, 12 kilometres should take you around six hours, and you have to take the distance between huts into consideration. There are a number of guide books and maps available.
Starting Out
From Oban you head north towards Port William hut (although you can cheat and begin with a shuttle bus that takes you past this point). However it's done, it would be reasonable to reach the 20-bunk Bungaree hut on the first day, a total of 18 kilometres.
The rougher terrain won't begin until the third day, when it's a lot of hill walking to end up at Yankee River hut. That's followed by a long stretch, including some gorgeous unspoilt beach to finish at East Ruggedy hut, right at the island's Northwestern point. So far, although often slow going, it might not have seemed too daunting, but, don't worry, there's plenty more to come.
The Rest Of The Circuit
The next section is, without doubt, the toughest, a 14 kilometre stretch to the wonderfully-named Hellfire Pass hut that should take around eight hours, and includes a long slog through deep mud – and that comes after a long, slow climb. Expect the muddy part – around 1.5km – to take a good two hours of your time, among much frustration. By the time you reach Hellfire Pass you'll be ready for a good long shower, the chance to wash clothes, and simply sleep.
With that, most of the worst is over, although the rest is hardly a Sunday stroll. There's still more than 50 kilometres left, which should take around another four days. However, some of it is gentler going, like the Mason Bay hut to Freshwater Landing hut stretch, which even follows an established track for part of its length. After that, though, watch out for the next leg, which offers steep climbs and descents that can be wildly treacherous in bad weather.
As if to make up for it, though, the final section is much easier, just 12 kilometres and about four hours to take you all the way back to Oban, very likely exhausted, but with plenty of tales to tell.
You might also like...
Now this sounds like a scary walk. I'm used to hiking in the UK but I don't know if I'd be up to that, especially the Hellfire Pass part. I'd be interested to hear from people who've completed the walk as to whether it's really as bad as the article suggests. I've been contemplating an NZ holiday, and if this is exaggerated I might be tempted to try. anyone have experience of it?
James
- 30-Jun-12 @ 9:14 AM