Questionnaire: Why Do You Hike?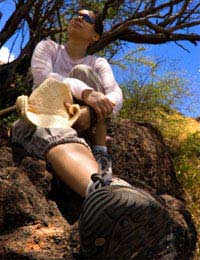 People enjoy walking for all sorts of reasons, and in all kinds of places. It's one activity virtually everyone can do, as long as they're mobile. It requires no special equipment, and there are no skills to learn - you simply put one foot in front of the other and go.
But why do you walk, how often, where, and what kinds of distances? Have you ever really even thought much about it? These questions give you the chance to reflect, and maybe discover a bit more about yourself, and why you enjoy hiking.
How many times a week do you go walking?
a)
Once
b)
Twice
c)
More than three times
d)
Every weekend
Where do you walk?
a)
Around my neighbourhood
b)
To the shops and back
c)
Out in the country
d)
I walk as much as I can
If you go hiking at weekends, do you:
a)
Only go if the weather is good
b)
Only go sometimes
c)
Go only one day
d)
Go both days
How Far Do You Walk?
Each time I walk, I go:
a) No more than two miles
b) Between two and four miles
c) From four to seven miles
d) I regularly cover more than eight miles when hiking
When walking, do you prefer:
a)
Pavement
b)
Easy trails that are generally flat
c)
Fairly well marked trails that challenge me a little
d)
I like it as wild and rough as I can find
I like a walk that lasts:
a)
No more than an hour or two
b)
All morning
c)
All day
d)
I prefer to be out all weekend if possible
How do you prepare for a walk?
a)
My walking is in the town or city
b)
I have several rural routes I regularly take and know well
c)
I look in books and on maps or take recommendations from friends
d)
I take an OS map and go wherever I desire
Walking Equipment
Some people have plenty of walking gear, others don't. Is it important to you?
Do you own hiking boots?
a)
I wear trainers for walking
b)
I use the same pair I've had for years
c)
I have a fairly new pair
d)
I keep my hiking boots in the car
How much did you pay for them?
a)
Under £30
b)
£30-£50
c)
£50-£100
d)
Over £100
What else do you own?
a)
A good weatherproof hiking jacket
b)
Backpack
c)
Metal water bottle
d)
Walking stick(s)
How often do you replace or buy new walking equipment?
a)
I don't own special hiking equipment
b)
When something wears out
c)
Once a year
d)
Three of four times a year
Why Do You Go Walking?
The reasons behind people walking can offer plenty of insight into their enjoyment of it, and how often they walk.
a) I walk for the exercise
b) My doctor recommended it
c) I love being out in the country and walking around town
d) I walk for the freedom it offers
Do you walk as a duty (exercise) or go you really enjoy it?
a)
I walk because it's good for me
b)
A mix of pleasure and exercise
c)
I walk because I really love it
d)
I walk for the freedom of it
What do you enjoy most at the end of a walk?
a)
Getting home
b)
Resting my feet!
c)
Sitting in a tea shop in a village
d)
Relaxing with a drink in a pub
Conclusion
Take a look at how you've answered the questions. If it's mostly been a), then you're probably someone who walks for health and exercise, maybe on the recommendation of your doctor. You might want to try a mix of walking in town and getting out for short country walks.
With mostly b) answers, you're a casual hiker. You like walking, and sometimes getting into the countryside. Consider a longer walk, perhaps, something to stretch you a little, maybe one that takes a whole day, with frequent breaks.
Did you mainly answer c)? If so, you love hiking and walking, and you might be ready for something like a short walking holiday, taking a few days away where you can really indulge yourself and move up to the next level.
For anyone whose answers were mostly d), then you're definitely a hardcore hiker, and probably only read this when home on a break between walks!
You might also like...