What is Race Walking?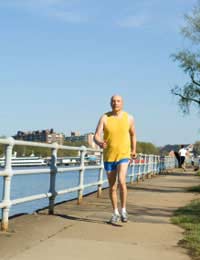 Before considering the benefits of race walking as exercise or for keeping fit, it's useful to distinguish what it is and what it's not. It's not walking, power walking or jogging but is an Olympic recognised sport which is defined as moving forward in such a way where either of your feet must be in continuous contact with the ground. In other words, the leading leg must be straight from the moment it comes into contact with the ground until it's in a vertical position and the trailing foot can't leave the ground before the leading foot makes contact with it. For competitive race walkers, the objective is to walk as fast as possible, maintaining regular stride patterns without being disqualified for an 'illegal movement'. In other words, it differs greatly from walking or hiking.
What are the Benefits of Race Walking?
Well, firstly, it can be competitive which gives added spice to those who enjoy walking but require a competitive edge to their choice of activity, rather than just hiking. It also maximises the benefits of cardiovascular and aerobic exercise without having the same degree of intense impact that something like road running will have on your body, which makes it an excellent way of keeping fit. In fact, many joggers and competitive runners enjoy race walking for cross-training purposes and it can be a very beneficial activity for athletes and other sportsmen and women when they're coming back from injury.
In addition, because of the strict technique adopted by race walkers, which is unlike any other form of walking, even power walking, it is great exercise for those who want to improve the tone of their muscles as frequent practice using the correct technique can only lead to defined muscles in both the legs and abdomen area and many people feel it's a far more enjoyable method of achieving a more 'sculpted' physique than to spend time on the weights, rowing machines and treadmills inside a gym. You can also benefit from the exercise by burning additional calories to either maintain weight or to lose weight or keeping fit in conjunction with a sensible dietary plan and its good exercise for improving the functions of muscles and joints and in keeping your bones healthy too.
Anyone can Take Part In Race Walking!
Whilst some race walkers enjoy pitting their wits against other like-minded competitors, it's not just about racing. Anyone who adopts the technique of race walking can reap the benefits of the activity without having to compete against others. All you require is a relatively flat area for walking, simple sportswear and a decent pair of sports shoes and you can race walk as long as you follow the technique. Therefore, it can also be taken up by people who want to keep fit or those who are overweight and, because you can start off at a pace that suits you, there are no extremely intense physical demands placed upon you. You simply exercise at your own pace and build up gradually if you want to.
You'll also benefit more than by running, if you're not totally fit, as there'll be less impact on your legs, knees and other joints and, unlike many others who have to give up their chosen sport or activity when they get older, race walkers can often go on well into their 70s and even older! So, in spite of the popular belief that race walkers look funny, making 'chicken-like' movements as they walk, that only improves as your technique gets better and, 'chicken-like' or not, isn't that a small price to pay for keeping fit?
You might also like...